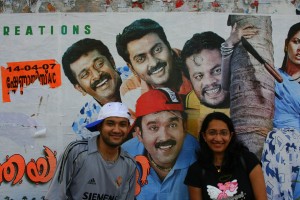 It still doesn't feel any better. In fact as the days go by, it just gets more real.
From the photo on my bookcase, I can feel your eyes follow me all around the room and not one day goes by where I don't feel like I have connected with you. That's not the photo I have on my bookcase 🙂
Everytime I watch a movie, something else on the telly or read a book, something always reminds me of you. Of course, there's no way ever that I could watch a quiz show and not think of you.
When Amma was here visiting, she would light the lamp every evening and the kids would pray so sincerely for you to get better that it was heart-breaking to hear them say out loud what we said to ourselves every day, every conscious moment – "Ampottisamy, please make Sandymaama better and make his illness go away." Very sincere, their prayers were and I thought that their prayers would be heard.
In an attempt to revive that habit of lighting the lamp, I got the kids together and realised with a pang that we all thought of you at the same time. Only, this time they didn't ask that you get better but instead turned around and asked me how you were. That's when I explained to them that you were the brightest and shiniest star in the sky and was in a very happy place. They still do remember you in their prayers, although I don't think they really understand it all.
So yes, you're still here with me everytime I think of you. I was thinking of the old animation cartoon I made of you – with you on the phone, going yakkity yak and rocking backwards and forwards on a chair in the consulting room downstairs. Those days you spent so much time on the phone, reminded me of how I was the same at that age. 🙂
I was also thinking of how we would play with you and Dulu outside the house in Madakkapallil. I think of the great "Sambar episode" involving Ammayi and how you were so amused by it afterwards.
I love you lots and miss you terribly, dear Sandeep.
Love forever,
Valli.
31/07/08