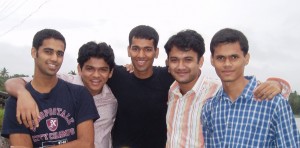 by Manoj Nair (Philadelphia, PA, USA) (Manu)
I have looked forward to every trip to India that our family has made throughout my life. Every time we make the trip, my anticipation seeing my cousins feels like that of a young boy seeing his best friends at summer camp, only once a year. Each trip, we reconnect, spend our time laughing, telling stories, and hanging out…nothing out of the ordinary, just the things that kids do. But it was always so hard to leave them a few short weeks later. In our group of cousins, Sandeep was the eldest brother, our ringleader. He always set the pace, and we always followed his lead.
What I liked most about Sandeep was that he went against the grain. He didn't concern himself about what other people thought of him. It didn't matter if he ever looked foolish, he would just be himself, just because life is more fun that way. This is what I liked most about him, and consequently, this is what I have learned from him.
As I said, Sandeep was our ringleader. Every little thing that happened between us, I would eagerly await Sandeep's commentary, the first wise-crack. When he was silly, we could be silly. When he would let loose the first joke, we would all join in. I remember one year, we spent half our trip playing a FIFA soccer video game. When the game would load, a British rock song (Blur's "Song 2") played that began with an emphatic "Woohoo! Woohoo!". Every time we played the game, Sandeep would start singing along to the inarticulate lyrics, and we'd all sing along: "I got my head checked, by Itchyambotchya! [actual lyrics: I got my head checked, by a Jumbo Jet"]. We didn't find out the real lyrics till much later, we just assumed that Itchyambotchya was some witch doctor, and we were perfectly happy just laughing about that.
I remember a similar silly musical experience with our cousins: when we decided to film our own music video to Will Smith's song "Getting Jiggy Wit It" [lyrics: "Getting Jiggy Wit it, Na na na na na na"]. We all wore big black sunglasses, and sang and danced along with no regard to how ridiculous we looked. Sandeep would always indulge us in our silly charades. He was never too old or cool to spend time with his younger cousins.
When we found out Sandeep was sick, yes, we were all worried. But once again, I tried to follow Sandeep's lead. He rarely spoke to me about anything that worried him. I think he just didn't want anyone else to worry about him. He brushed it off, made a joke, and turned the conversation topic back to me…Just like he always did, before he got sick.
This was the other thing I liked most about my cousin: despite all the hardships he had to face, he never let it bring him down. He never let his illness change him, much less define him. The fact that he decided to study for his GRE's after getting sick is a testament to his hard-working nature. I respect him that much more for this. He was, before and after the onset of his illness, a witty, hard-working, intelligent, genuine, fun-loving guy. I miss him.
I can't measure my relationship with Sandeep by the number of our visits to India, or the number of days we spent together, but only by the many laughs we shared.
He was more than a friend. He was more than a cousin. We are brothers.
I'll never forget you, brother.