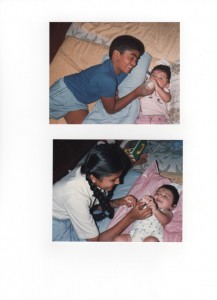 Sandeep is no more. I haven't come to terms with this news completely. Having lived so far away from him in Canada, I feel that he is still somewhere there in Kerala.It hurts a lot more when it is someone so much younger to you and particularly someone so loveable and affectionate as Sandeep. His vivacious personality shone through his shiny eyes  and  his smile was infectious. He was the precious first grandchild of my beloved Kunjammavan and Lalithachechi and the first born of my dear cousin Hema. Kunjammavan  my father's youngest brother,  like Sandeep  was the darling of the whole family in his generation.
I remember seeing Sandeep as a baby barely four months old, while we were on holidays in India. It was July 1984. He was adorable with a face and smile that  reminded one of  'full moon'!  My son Vinay took an instant liking to little Sandeep and loved playing with him and feeding him the bottle as seen in the picture. He was a no nonsense baby, who grew up soon to be a gentleman in all respects. We saw him every year when we went to India on holidays and he made us all proud by being the best in anything and everything he did, be it academics or extra-curricular activities. His sence of humor was bigger than that of his grandfather, mother and father's put together.
During the days preceding my son Vinay's wedding in Cochin in July 2005, he was very active in the festivities in spite of having lots to study. We heard after we returned to Canada that he was not well and needed surgery, chemotherapy, and radiation. My heart sank when I heard that. I spent all my waking hours reading up on his ailment, contacting medical experts regrading the best available treatment, and communicating with his family and treating doctors and of course praying a lot. He went through the harsh treatments and studied hard and appeared for final exams and did well as always. When he joined his job in Bangalore we all took a sigh of relief and turned that difficult page of our life, hoping never to look back again.
But destiny had a different and cruel agenda for him. To our utter dismay the rug was pulled from under our feet while we were not looking. He was taken away from us after a very courageous battle, which he fought tooth and nail. Again he made us feel very proud by being a strong soldier in that battle.
Sandeep we miss you. We pray that you are enjoying the fearless and loving company of your grandfather – our 'dear Kunjammavan'.
Love
Ranimmayi