My memories of dear Sandeep chettan-Srinath
Me and my cousin Sandeep Chettan were the best of friends . He taught me to play chess. He was a good cricketer and taught me to bowl.
I used to sing for him. Whenever he came to Thodupuzha, we used to get payasam for him from the Sreekrishna temple which he loved very much.
He used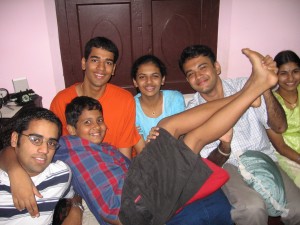 to take me to Sharjah or K.R. Bakes for snacks and shakes. I miss him so much. I loved him and he loved me too. He always stood by me and supported me whenever I fought with Dulu chettan and Chechi. Whenever he felt happy ,I used to feel happy too. So we became best friends for ever and ever and ever. I love my Sandeep chettan and I will miss him very much.
Srinath